I was at Trader Joe's yesterday, looking around at everything, and trying to find ideas. Even with bags of fire roasted peppers and onions, I was still over five ingredients when I came up with stuff. Then I found the answer to all my prayers: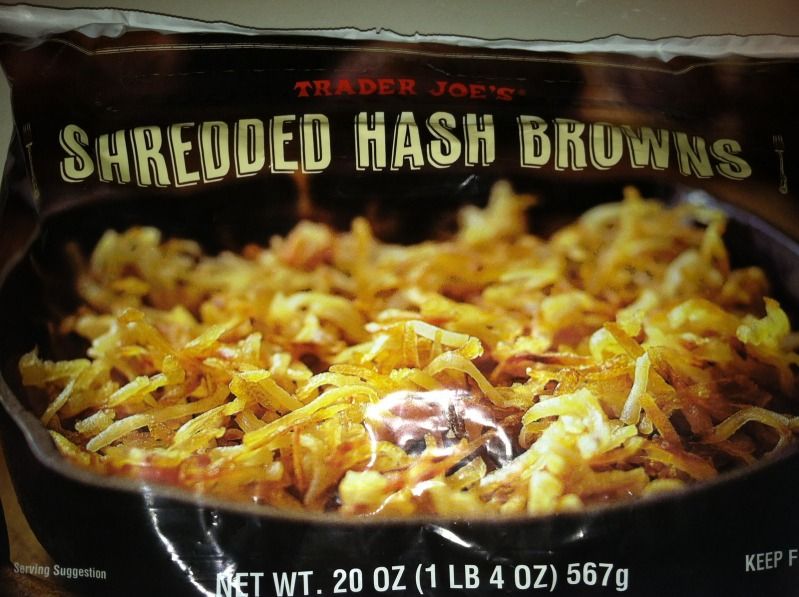 There's a reason this stuff shows up in more than one dish at church potlucks. You can do so much with it! Maybe it's the Minnesota in me, but I suddenly had ideas for all kinds of hot dishes.




Southwestern Hashbrown Hotdish
makes 6-8 servings

1 20-oz bag hash brown potatoes
1 can black beans, drained and rinsed
2 cups salsa
8 oz frozen peppers and onions
1 cup Daiya cheddar shreds, or pepperjack shreds

Preheat oven to 400°

Spray a large cast iron skillet or 9x9 roasting pan with cooking spray. Pour half the bag of hashbrowns in there, and spread them around. Mix the black beans and salsa. Spread half the bean mixture over the potatoes. Sprinkle with 1/2 cup cheese. Spread the rest of the bean mixture over that, another layer of potatoes, and top with cheese. Bake for 45 minutes, then put under a broiler for ten minutes if the potatoes aren't fully browned.

Italian style:
Instead of black beans and salsa, use seitan or tempeh sausage crumbles and marinara sauce. Use vegan mozzarella cheese.

Breakfast casserole:
Scramble up some tofu with the veggies and layer it in with cheeze and tempeh bacon.

Indian style:
For the veggie layer, use frozen peas and carrots. Throw in some chicken seitan and coconut milk and season with curry powder.