No, not exhausted from MoFo. Exhausted from working what seemed like a thousand days in a row, with today being the last night, as well as the busiest. I plan to sleep like the dead tonight. I am so grateful to Morning Megan for making this before work today, because there is no way I can face the kitchen right now. I need sleep. But first...


I remember going to Bennigan's twice in my life. Both times, I got the Monte Cristo. I'm a big fan of savory + sweet, so a French toast sandwich with all kinds of salty, meaty, cheesy insides that could be dipped in raspberry jam was just what the doctor ordered. I was nervous to make this, but it turned out better than I'd expected. I was out of Daiya cheddar, so I used Vegan Gourmet jack cheese and Daiya mozz. I also added Vegenaise (of COURSE), smoked Tofurky slices, and some fried up slices from this:
I know. Laugh it up. But this shit is
amazing
. I was never a big fan of ham when I was a meat eater, but I sure do like this all sliced up and fried with a little smoked paprika. It'll be making an appearance in another theme week; don't you worry. If you live near an Asian market, I recommend picking one up.
The bread I used is from Rudi's, of course. One thing about Rudi's bread is that it never lets me down. It's so hard to find whole wheat bread and buns that are vegan (a lot of them have honey), but almost every kind of bread of Rudi's that I pick out is vegan and delicious. I find them to be a brand I've come to rely on pretty heavily, so I was even more impressed when I asked if I could do a giveaway with some of their products on my blog during MoFo. Using the poker vernacular, they were all in!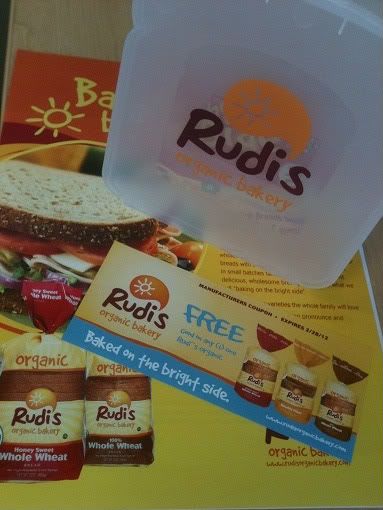 So, if you'd like to win a Rudi's prize pack (coupon for a free Rudi's Organic loaf and a super cool sandwich container), go "like"
Rudi's on Facebook
, and then come back and leave a comment! Also, anonymous comments and guest comments with no contact info won't be in the running. Sorry, but I am way too busy to go tracking people down. I'll be announcing winners for this as well as the Wayfare winner next week. Since I get so few comments, I want to make it more interesting by dragging it out. *wink*